Why is it some people are just plain hard to be around?  The answer is; there are as many reasons as there are people. 
That said  choosing your words with cooperation as your goal can make you one of the people with whom others like being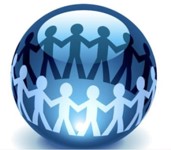 around.  How do you feel when someone says "You need to…"?  Kinda makes your neck stiffen doesn't it?  How about "Just do it this way…"?  Do you want to do "it" anyway but that way?  Choosing your words thoughtfully is the key to having others want to work with you rather than resist you.  One version comes across as dictatorial the other as cooperative.
| | | |
| --- | --- | --- |
| DICTATING | | COOPERATING |
| You need to stop interrupting me | | If I could finish my thought, I will be happy to listen to yours |
| | | |
| Just do it the way we always do it | | What if we tried another approach |
| | | |
| Trust me I know what I'm doing | | I've studied this and want you to know you can trust me to meet the objective doing it this way |
Hear your words before you use them.  Do you sound like you want others to be as committed as you are, or are you happy with compliance only?  One gets you an engaged, whatever-it-takes partner, the other a minimal effort to just get through.  Consider suggestive word choices instead of directives.  Request rather than demand.
Remember – a person who is appreciated will always do more than is expected, and a person who is invited will come along of his or her own accord without you needing to prod or drag.
#SummerstoneGroupLLC